Include everyone in your hybrid events.
Translate any hybrid conversation, anywhere, in almost any language.
Contact Us
Bridge the gap between in-person and virtual events --
in multiple languages at the same time.
Whether your attendees are in the room or online, our AI-powered solution ensures real-time translations tailored to each participant. With 150+ languages to choose from, we seamlessly bridge the gap between in-person and virtual events, enabling everyone in your audience to engage, understand, and connect like never before.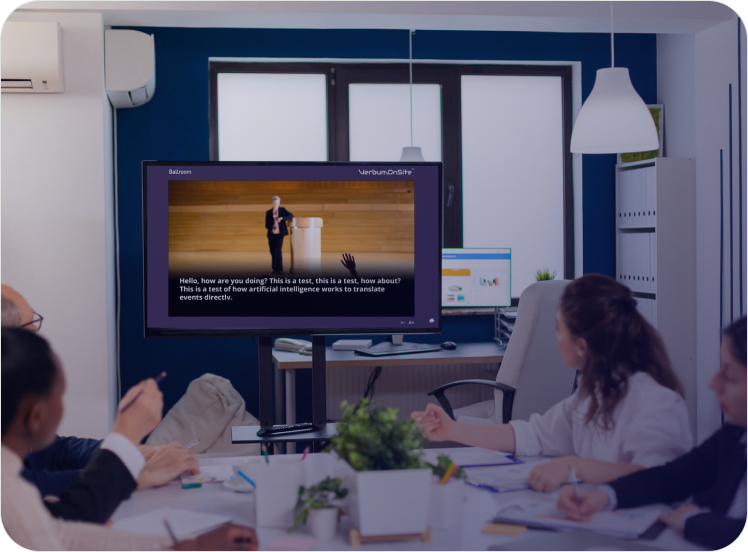 Nothing lost in translation or transcription.
VerbumBridge™ unlocks seamless communication for multilngual hybrid events. Powered by VerbumOS, our multilingual AI engine, every attendee can receive captions in their preferred language. Now, anyone can be part of the conversation from anywhere in the world anytime.

Nothing checks all the boxes like VerbumBridge.
To create a more understanding world. Communication is the foundation of understanding.
Hybrid event compatibility
Real-time closed captioning.
Live human interpretation module.
Protect and Security events.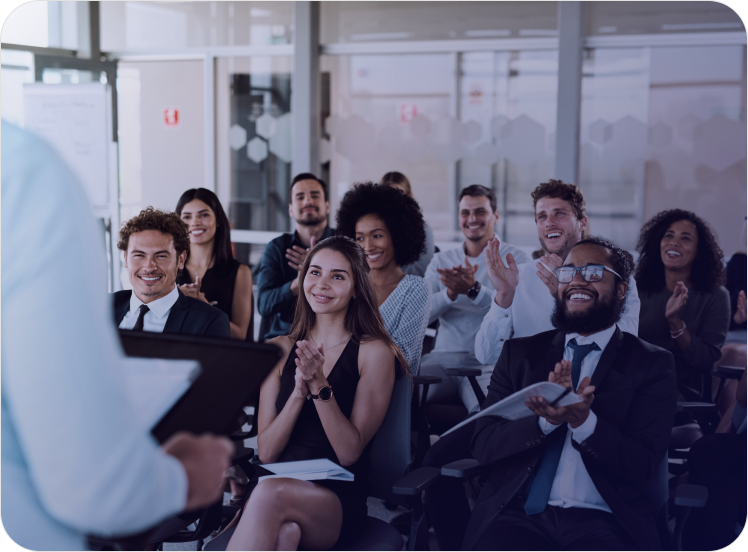 Education
Revolutionizes learning with real-time captioning, expert interpreters, breakout rooms, and a Q&A panel for student-teacher engagement.

Legal
Real-time translations and pro interpreters guarantee clear communication. Secure data handling preserves confidentiality, while breakout rooms offer private consultations. Achieve unmatched clarity and flexibility in the legal world.

BFSI
Amplify your financial seminars and conferences. Facilitate hybrid events with real-time translations, ensuring every stakeholder understands complex topics. With top-notch security measures, safeguard sensitive data discussions.

Healthcare
Elevate patient care and medical symposiums using VerbumBridge. With real-time translations, ensure every health professional and patient grasps crucial information, regardless of language.

Travel
Travel companies can manage multilingual events, presentations, or webinars in just a couple of clicks and offer their clients the comfort of their native language and ensure clear communication of itineraries.

Gaming
VerbumBridge offers real-time translations for events, ensuring every player feels connected and understood. Dive deeper into market expansions and amplify player engagement with an inclusive gaming experience.

Healthcare
Deliver inclusive patient care and ensure clear understanding.

Events Managers
Host seamless hybrid events, engage diverse audiences with real-time translations, and customize branding to match any theme. Ensure smooth coordination with dedicated roles and backstage communication. Take your events global effortlessly.

Gaming
Connect players worldwide, break down language barriers, and enhance real-time multi-language player interactions.
AI-powered conversation, translation, and transcription tools for an Understanding World.
Step into a world where anyone understands anyone. Begin your journey with our free demo!